Using the AASB app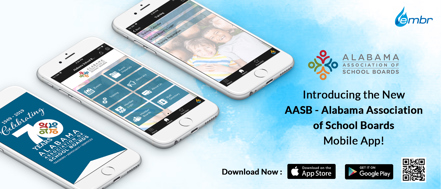 Have you downloaded AASB's new app yet?
The new AASB app has TONS of cool features, including
Upcoming events & event registrations
School System Snapshots
School Board U access
Materials for past events
I'm also excited about the Push Notifications feature! AASB can use these to send you quick updates about events and more.
I will use push notifications to let you know when there's a new post available on the blog, so you never miss one!
HOW TO GET THE APP
OPTION 1: Search "AASB app" in the app store on your mobile device, then download
OPTION 2: From your mobile device, click on the link below to go straight to the app in your phone's app store
| | |
| --- | --- |
| iPhone/iOS device | Android device |
| | |
HOW TO GET PUSH NOTIFICATIONS
Open the app once you download it to your device.
Click "Allow" on the pop-up asking if you would like to allow notifications. (NOTE: If you click "Do not allow" at first, you will have to go into the notifications settings on your phone to turn on notifications).
Click "Get Started" on the last screen of the app's welcome tutorial, then click save.
Click the "Menu" button on the bottom left corner of the app, then click "My Channels." You should see a list of channels, some with black or green check marks.
Click on "2019-20 Empowerment Team," then enter the password empower@123
Click "Okay" on the next pop-up, then click "Save."
Now you'll get our cohort push notifications!
Need to watch a video tutorial for this? Check out the AASB App Video Tour on YouTube.
---