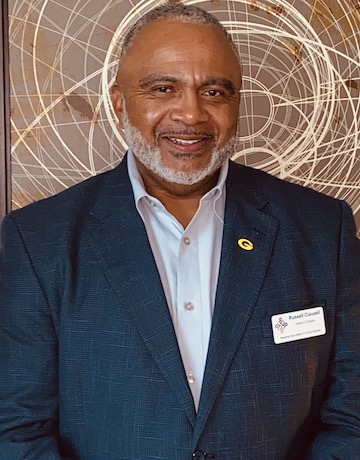 District 3 Director
334-447-1286 | pastor_clausell@msn.com
Member: Geneva City Board of Education
Boards in District:
Andalusia, Barbour, Coffee, Covington, Crenshaw, Dale, Daleville, Dothan, Elba, Enterprise, Eufaula, Geneva County, Geneva, Henry, Houston, Opp, Ozark, Pike and Troy
Rev. Russell Clausell serves as president of the Geneva City school board and has served on the board since 2015. He became AASB's District 3 director in the December of 2020. Russell has served on AASB's Advocacy and Bylaws Committees and has reached the master level in AASB's School Board Member Academy, earning more than 230 total training hours. Russell is the assistant pastor of Saint Elizabeth Missionary Baptist Church. He retired from the U.S. Army in 1998. He earned a Bachelor of Christian Education degree from the Baptist College of Florida in 2016.
Russell is active in numerous community and civic organizations, including the Greater Geneva Chamber of Commerce, for which he serves as president, the Geneva City Planning Commission, the Geneva Ministerial Association, Southeast Alabama Coalition for the Homeless, Alabama Coalition for the Homeless Board of Directors and the Wiregrass Habitat for Humanity Board of Directors.
Russell has two children, Kimberly (Woodrow) Clausell-Dean and Russell (Sandy) Clausell, Jr., and nine grandchildren.