ON-2021-07-30 Fall Conference 2021
Fall Conference 2021
30-Jul-2021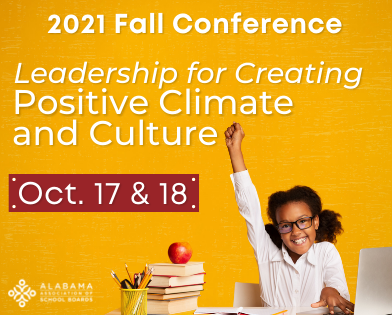 AASB's Fall Academy Core Conference, Leadership for Creating Positive Climate and Culture, will take place Sunday, Oct. 17 and Monday, Oct. 18 at the Renaissance Montgomery Hotel & Spa. Earn up to six training hours and hear from expert speakers who will share strategies for creating positive school climates and high-quality learning environments that lead to educational excellence. View Schedule
FALL CONFERENCE: Register Now

Post-conference Workshop (2 hours)
The post-conference session will dig deeper into an issue that often is a key indicator of climate and culture in schools -- chronic absenteeism. Join AASB consultant Dr. Camille Wright on Monday, Oct. 18 from noon to 2 p.m. for an informative session that will examine the causes and impact of student absenteeism, provide insight into approaches that have successfully increased attendance and highlight the board's role in addressing this vital issue. Lunch is included.
POST-CONFERENCE WORKSHOP: Register Now

Health & Safety Precautions
Providing a safe environment for our members, guests and staff is our top priority. Achieving this is a shared responsibility. Based on the current updated guidance from the Alabama Department of Public Health (ADPH) and the Centers for Disease Control and Prevention (CDC), we will require attendees to wear masks during this year's Fall Conference.
The AASB staff will continue to closely monitor COVID-19 case numbers and promptly notify registrants of any changes or updates to safety guidelines and protocols for the conference.

Virtual Attendance Option
At this time, in-person attendance is the only Fall Conference registration option. Should case numbers remain high in the weeks to come, we will make necessary adjustments to add a virtual option based on guidance from the ADPH and CDC. We will gladly allow members to switch their registrations from in-person to virtual if that option becomes necessary.
---
Hotel Information
Renaissance Montgomery Hotel

201 Tallapoosa Street
Montgomery, AL 36104
Room rate: $135
Reservation line: 1-888-236-2427
Last day to book a room: Friday, September 17
Last day to cancel room: Friday, October 15
---
Conference Speakers & Presentations
Dr. Suzanne Lacey

Dr. Jim Purcell

Dr. Camille Wright

Talladega County Schools Superintendent





View Presentation





Coordinator of Innovative Learning
Talladega County Schools

Alabama Commission on Higher Learning Executive Director





View Presentation




AASB Trainer and Evaluator & Senior Consultant for the Alabama Department of Early Childhood Education

Twitter:

@TCBOE

Twitter:

@ACHE_EDU
---
Schedule-at-a-Glance