ON-2019-01-10 March Conference 2019
March Conference Agenda, Speaker and Presentations
28-Feb-2019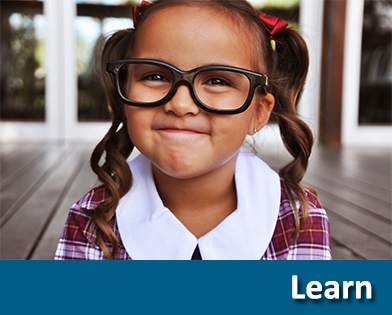 More than 300 school board members and education leaders are expected to attend AASB's March Conference, Leadership for Financial Accountability, March 1 and 2 at the Hyatt Regency Birmingham - The Wynfrey Hotel.
.............................................................................................................................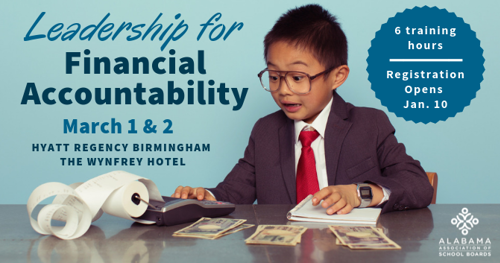 Go Beyond the Basics of School Finance
How familiar is your board with the most current information on financial forecasting? Is your school system aware of the best practices to prevent and respond to cyber security threats? Could your board use ideas on innovative ways to cut expenses? Join us Friday, March 1 and Saturday, March 2 for expert guidance on these topics and more at AASB's March Academy Conference: Leadership for Financial Accountability.
Also, don't miss in-depth breakout sessions on topics such as Key Financial Indicators, Bid Law, Capital Planning and Data Breach.
Conference Agenda

Download the complete March Conference agenda.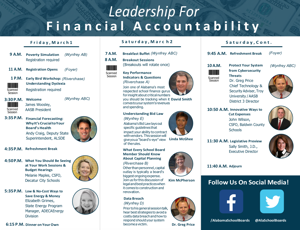 General Session Speakers & Presentations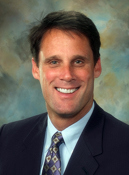 Financial Forecasting: Why It's Crucial to Your Board's Health
Andy Craig
Deputy State Superintendent, Alabama State Department of Education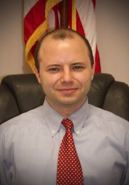 Data Breach & Cyber Security Threats
Dr. Greg Price
Chief Technology & Security Officer, Troy University
AASB District 3 Director and Pike County school board member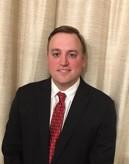 Innovative Ways to Cut Expenses
John Wilson
Chief School Financial Officer, Baldwin County Schools

What You Should Be Seeing at Your Work Sessions & Budget Hearings
Melanie Maples
Chief School Financial Officer, Decatur City Schools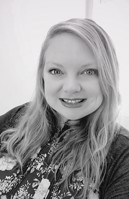 Low & No-Cost Ways to Save Energy & Money
Elizabeth Grimes
State Energy Program Manager, ADECA Energy Division
Breakout Sessions & Presentations
Key Performance Indicators & Questions
David Smith
View presentation
Understanding the Bid Law
Linda McGhee
View presentation
What Every School Board Member Should Know About Capital Planning
Kim McPherson
View presentation
Data Breach
Dr. Greg Price
View presentation
Poverty Simulation and Early Bird Workshop
Poverty Simulation
Friday, March 1
9-11:30 a.m.
A Poverty Simulation offers a sobering glimpse into the day-to-day realities of families living in poverty. In 2.5 hours, you experience a month in poverty, taking on the identity of a family facing the complex challenges of a limited income. You will confront the chaos, fear and frustration that can accompany everyday tasks such as seeing a doctor or cashing a check. The simulation culminates in a guided debriefing session, engaging participants in the difficult, honest conversations necessary to not only build awareness and empathy but also to foster improvements in the way we work with and for our neediest students. Learn more.


Early Bird Workshop: Understanding Dyslexia
Friday, March 1
1-3 p.m.
Presenter: Sonya Yates
Your school system contains many students affected by dyslexia, the most common learning disability. In fact, it is estimated that one in five kids has dyslexia. Join Sonya Yates, Dyslexia Therapist for Saraland City Schools, as she provides a simulation of what those with dyslexia often experience with reading, writing and processing. This workshop is designed to help you gain a better understanding of and empathy for those children and adults who struggle with dyslexia.
Food & Backpack Drive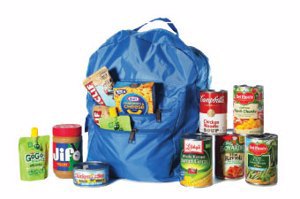 Help make a difference by taking part in AASB's annual March Conference Food & Backpack Drive. Bring non-perishable food and backpack donations to benefit the Community Food Bank of Central Alabama's Weekenders Backpack Program.
For far too many students, breakfast and lunch in the school cafeteria are the only sure meals of the day. The Weekenders Backpack Program helps to ensure that students in need won't go without nutritious meals on the weekends.