Student Achievement Key Focus of State Board Retreat
Annual State Board of Education Retreat
26-Aug-2022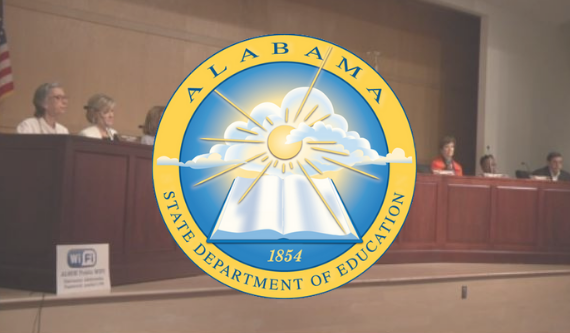 The Alabama State Board of Education held its annual summer retreat Wednesday, Aug. 24 at the AASB office in Montgomery, covering a host of topics including supports to strengthen student achievement.
Board members requested an overview of how the ALSDE is supporting underachieving schools. Deputy Superintendent Angela Martin and Assistant State Superintendent Dr. Elisabeth Davis led a presentation outlining various programs and support services available to schools. State supports are designated for some schools because of low achievement, while others voluntarily opt-in for supplemental support.
Newly hired Office of Mathematics Improvement Director Dr. Karen Anderson and ALSDE Directors Dr. Sandy Ledwell of AMSTI, Dr. Melissa Shields of the Office of School Improvement, and Bonnie Short of ARI presented information about how the respective programs work together to support schools struggling with student achievement, with priority given to the most challenging schools.
Anderson noted the SBOE's sense of urgency on the issue, and along with the other directors assured board members a plan and action are in place to increase achievement in reading and math across the state.
Martin said she expects increased improvement on this year's NAEP scores (National Assessment of Educational Progress) and is looking forward to those results being released later this fall.

Legislative Luncheon
The board invited state legislators to participate in a legislative discussion. State Representatives Terri Collins, Alan Baker, Jamie Kiel, Tracy Estes and Charlotte Meadows and State Senators Bobby Singleton, Kirk Hatcher, Malika Sanders-Fortier and Vivian Figures joined board members over lunch to discuss potential legislation and issues facing education.
Topics included conversation about Florida's tenure reform law, and Tennessee's new education formula designed to provide a base allocation for students with additional funding/weights for specific populations such as English Language Learners (ELL) or students living in poverty.
Legislators and board members also discussed Rep. Pebblin Warren's First Grade Readiness bill which would require students entering first grade be able to demonstrate first-grade readiness skills upon entering, an effort supported by the ALSDE. Warren introduced similar versions of this bill in the past which would have made kindergarten enrollment mandatory but stalled in the Senate.
The bill passed in the House before falling short in Senate committee. Legislators and board members indicated support for the bill, saying students should have basic skills kindergarten students possess before entering.
Charter Schools
Logan Searcy, who serves as ALSDE's liaison to the Alabama Public Charter School Commission (APSCS), presented an update on developments among the state's charter schools. Since inception, the APCSC has authorized nine charter schools, while local authorizers have approved three schools. President Pro Tem Wayne Reynolds (District 8) asked if there is an appellate process when the commission approves schools. Searcy said no such process exists once a commission approves a school, adding that if a local authorizer denies a charter school application, an appeal can be made to the APCSC which has authority to overturn the decision.
Administrative Code Process
Board members also got an overview of the Alabama Administrative Code and rule-making process. ALSDE General Counsel Jason Swan and Associate General Counsel Darnell Coley presented and fielded board member questions on the process.
Next SBOE Meeting
The board's next meeting will take place September 8, 2022, at 10 a.m. in Montgomery with a work session immediately following.