ON-2021-09-08 Board Member Spotlight: Jannah Bailey
Board Member Spotlight: Jannah Bailey
8-Sep-2021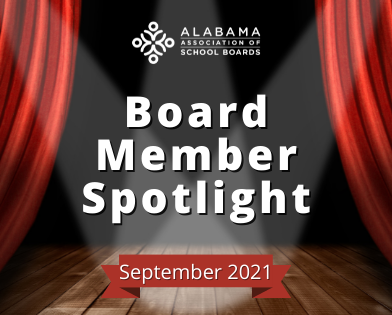 Each month we'll be featuring school board members in an effort to learn more about the wonderful individuals serving on our boards!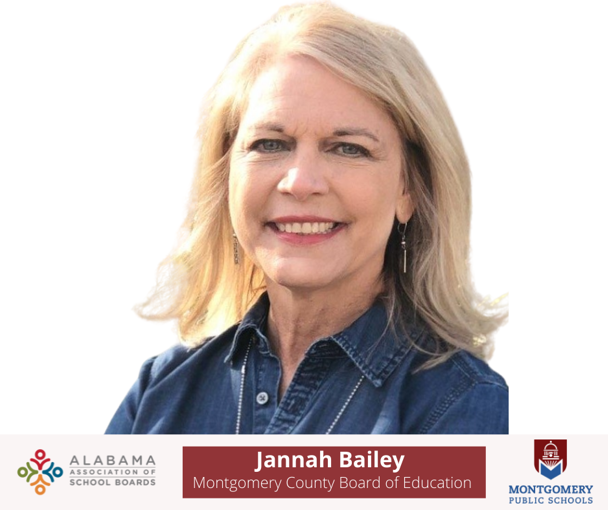 Jannah Bailey joined the Montgomery County Board of Education in 2018 after she felt inspired by the question "what are you going to do next?". Jannah chose to address the need for change in leadership in Montgomery schools and make a difference in the lives of Alabama schoolchildren.
Read more to learn about Jannah!
What inspired you to join the school board?

I had just finished a woman's Bible study in December of 2018 and the last question was "what are you going to do next?" I then went to the Chamber of Commerce annual luncheon and heard Dr. Richardson speak on the state of the Montgomery Public Schools. I felt a nudge in my heart that I may need to consider running for school board and that very afternoon a friend called me and ask if I would run. He told me I was the first person they called BUT since my last name starts with a "B" I told him it was more like my name was alphabetically at the top of the list! I was really inspired by the "what's next?" and the great need for a change in leadership at the board level for the Montgomery Schools.

What is your favorite part about being a school board member?

I have learned so much more about our community and specifically the needs of our children. It was great to be able to celebrate the hard work of the community to finally get a property tax referendum passed.

What does your work as a school board member mean to you?
Being on the school board has allowed me to make a difference in the lives of the children in the schools by representing them and being a voice for them. Recognizing the challenges that face our children and being able to bring solutions.

Tell us about your career and/or professional accomplishments.

I have been the executive director of Child Protect, Children's Advocacy Center since April 2001. I oversee the day to day management of the agency, fundraise, and provide forensic interviews to children that have been abused or witnessed some type of traumatic event.

What are some of your hobbies?

Grandchildren! Hiking, reading, and Auburn football!
What is a fun or interesting fact you would like to share about yourself?
As as child I loved to take pictures and one day I dreamed of being a photographer for the National Geographic. I still love to take pictures but on my hiking adventures.
What is your favorite inspirational quote?
I have so many that I reflect on and use but my most favorite that truly keeps me going is:
Isaiah 6:8
"Then I heard the voice of the Lord saying, "Whom shall I send? And who will go for us?" And I said, "Here am I. Send me!"