ON-2019-08-19 AASB Wins Leading Edge Award
AASB Honored as Recipient of NSBA Leading Edge Award
19-Aug-2019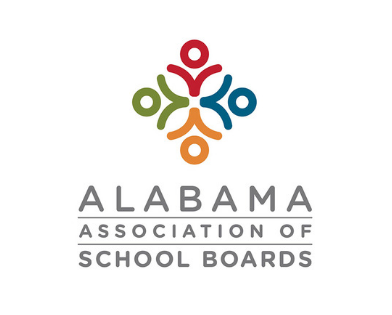 The Alabama Association of School Boards was recognized as one of two recipients of the National School Boards Association's 2019 Leading Edge Award during a luncheon Saturday, August 17 at NSBA's Summer Leadership Institute in Chicago, Ill.

Established in 2018, NSBA's Leading Edge Award recognizes state school board associations for development of innovative projects that promote and advance public education. The Georgia School Boards Association joined AASB in being honored with this year's award.
AASB was recognized for its School System Snapshot, a resource that provides an individualized look at each Alabama public school system's state and local resources – funding and spending. The tool, released annually, is designed to offer school board members a starting point for discussions with constituents and lawmakers at the local, state and national level about the unique funding needs facing their school systems.
"The Leading Edge Award recognizes the invaluable services our state associations provide to their local school boards," NSBA Executive Director and CEO Thomas J. Gentzel said. "The School System Snapshot tool and Georgia Vision Project both advance public education's mission by engaging partners in addressing critical issues in each state."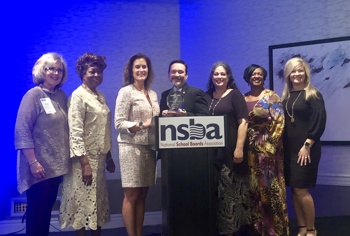 AASB's School System Snapshot has become a go-to advocacy resource for school board members and a valuable information tool for state lawmakers, including Rep. Bill Poole, chair of the House Ways and Means Education Committee, who requests a set of snapshots each year for every member of his committee.
"The Alabama Legislature works hard to prioritize funding for Alabama public education, particularly K-12," Poole said. "AASB's Snapshots provide policymakers with an invaluable tool to help make decisions based on true needs and the potential impact on their community schools."
The AASB School System Snapshots were first launched in 2017 to help school board members better communicate their funding needs to constituents who often have little to no understanding of how school funding works in the state. AASB's staff works closely with officials at the Alabama State Department of Education and with local school system chief financial officers to compile and review the data. Several companion resources also are available to help systems use the Snapshots, including an interactive map, a user's guide and a listing of the value of one mill for city and county school systems.
AASB Executive Director Sally Smith said the award is a testament to the hard work and countless hours staff members put into the project.
"We are thrilled to receive the NSBA Leading Edge Award for our School System Snapshot," Smith said. "This project is an important part of our work to help Alabama's school boards be even better advocates for the schools and the students they serve."

About the National School Boards Association
The National School Boards Association is the leading advocate for public education and supports equity and excellence in public education through school board leadership. NSBA represents state school boards associations and their more than 90,000 local school board members throughout the U.S. Learn more at www.nsba.org.

About the Alabama Association of School Boards
The Alabama Association of School Boards represents all of the state's public local school boards. Since 1949, AASB has served education leaders and the interests of local decision making in public education. The association's mission is to develop excellent school board leaders through quality training, advocacy and services. Learn more at www.AlabamaSchoolBoards.org.

NSBA Award Video