FYI-2018-03-09 Ed Prep Report Card Gets Green Light, Board Discusses ALSDE Reorganization, Assessment Update
Ed Prep Report Card Gets Green Light, Board Discusses ALSDE Reorganization, Assessment Update
9-Mar-2018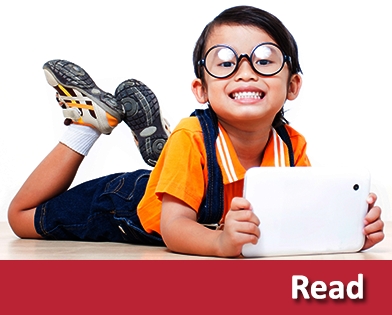 Ed Prep Report Card Gets Green Light, Board Discusses ALSDE Reorganization, Assessment Update
The State Board of Education unanimously approved a resolution authorizing the development and dissemination of a report card on educator preparation programs during its March 8 meeting. The report card would allow the ALSDE to review and take steps to address educator programs with insufficient pass rates.
Dr. Cynthia McCarty (District 6) joined other board members in expressing strong support for the effort. "I appreciate this because I think it will allow for transparency, accountability and provide information to drive improvement," McCarty said.

State Superintendent Dr. Ed Richardson said a draft of the report card will be ready in May, after he has had an opportunity to meet with deans of colleges of education to discuss options and hear concerns. That meeting is scheduled for March 27.

The board also approved a resolution for the adoption of the Digital Literacy and Computer Science Education State Course of Study. Betty Peters (District 2), who did not vote for the resolution, requested additional discussion on the matter, stating that she still has several questions and has heard concerns from parents about the need to have more reading, writing and arithmetic along with the instruction taking place on digital devices. Richardson said that while no changes will be made to the course of study, questions could still be discussed at a subsequent work session.

The interim state superintendent's report included an update on the state's intervention in Montgomery Public Schools. He informed the board that scheduled mediation and pending litigation surrounding the sale of Georgia Washington Middle School have delayed the implementation of his proposed financial plan for MPS. The sale would generate $9 million which would allow MPS to meet the minimum required operating balance and have sufficient reserves to address student achievement issues. Should the sale not take place, Richardson said he will need to look at a plan B to generate the $9 million.

During the board work session following Thursday's meeting, Richardson provided the board with an outline for the new organizational chart for the ALSDE. He told the board the restructuring has been a major task for several months. He said one of the primary goals of the reorganization is to reduce the number of exempt employees at the department "to a reasonable number." He also said he aims to organize departments with fewer moving parts to be able to operate more efficiently. Meetings with 31 exempt employees impacted by the reorganization were scheduled for Friday, March 9 and a department-wide meeting Tuesday, March 13. The reorganization plan will be brought back before the board for approval at the April meeting.

Richardson encouraged the board to rescind a resolution passed several years ago that he said "left the door wide open" for the state superintendent to make significant hiring decisions in terms of number of hires and salaries. He recommended the board follow state law, which does not allow a state superintendent to unilaterally create and hire for new, exempt positions.

Another significant topic addressed in Thursday's work session was an assessment update. Dr. Joe Morton, previous state superintendent of education and current ALSDE consultant, told the board there currently is no way to measure growth because there is no 10th grade assessment. That presents significant issues not only because growth is used to improve instruction, but also because growth is a major indicator in the State Report Card.

Morton updated the board on the results of a survey administered to members of the Assessment Task Force, which includes a cross-section of teachers, principals, administrators and parents. Results of the survey indicated that a majority of respondents would like to see the "pre-ACT" administered to all 10th grade students. The ACT would be administered in 11th grade, which would provide information needed to measure growth.

Dr. Tony Thacker, assistant state superintendent, said additional positive outcomes of administering the pre-ACT included a larger number of students entering the 11th grade better prepared to take the ACT and with reduced test anxiety.

A full-day meeting is scheduled later this month with the Assessment Task Force to discuss the bid that will go out for the next state assessment. That bid is expected to be reviewed by the board at the next meeting.

Next State Board Meeting
The board's next meeting will take place on April 12 at 10 a.m. in Montgomery, with a work session to follow.
---
Still Time to Register for Summer Conference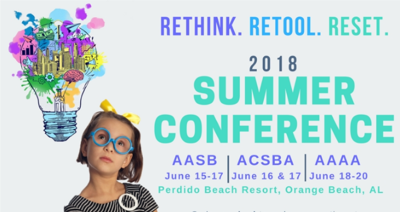 School board members can earn 7 training hours during AASB's annual Summer Conference in Orange Beach. Join your colleagues June 15-17 from around the state for three days of learning and networking. Available housing options include:
Brett Robinson Condo Rentals
1-888-633-7101
Group ID: 1286001 (for 10% discount)
Hilton Garden Inn
$239-$279
Phone reservations: 251-974-1600
Code: SBO
The Alabama Council of School Board Attorneys
(ACSBA)Summer Conference is June 16 & 17 in Orange Beach. Attendees can earn 6 CLE credit hours. Must be ACSBA member to attend. Learn more.
The Alabama Association of Administrative Assistants (AAAA)
Summer Conference is June 18-20 in Orange Beach. Learn more.
---
Two Advocacy Days Remaining
Don't miss out on your chance to join your peers and AASB staff in Montgomery for an up-close view of the legislative process and the opportunity to meet your lawmakers. Participants will not only earn two hours of training credit, but also will complete one of the requirements for attaining Master's Honor Roll status in AASB's School Board Academy. Registration is $25 and lunch is included. The final two Advocacy Days for 2018 are:

March 20, Districts 7-9 (Register now)

*April 10, Open to all districts (Register now) *Should the legislative session end prior to April 10, this date will be canceled.
---
Free Legislative Update March 16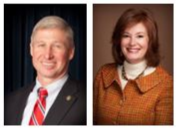 Tune in to our upcoming free Legislative Update call/webinar on March 16, from noon to 12:30 p.m. Rep. Alan Baker and Rep. Terri Collins will share updates on school safety, the ETF budget and other education-related legislative issues. Register now.
---
REMINDER: Ethics Forms Due April 30

It's time for school board members and superintendents to file annual financial disclosure forms with the state Ethics Commission. The forms can be downloaded from the Ethics Commission's website at www.ethics.alabama.gov.
---
Has Your Board Had its Whole Board Training?


With just three months remaining in the 2017-18 training year, Whole Board Training slots are filling quickly. State law requires two hours of Whole Board Training for board-superintendent teams. The deadline for that training is June 30. School board members who have earned the six individual hours still need the Whole Board Training hours to be fully compliant with state law.
Browse training topics in our Whole Board Training brochure.
Submit a Whole Board Training workshop request using our convenient online training request form or email us at: training@AlabamaSchoolBoards.org.

If you've already had or plan to have your training conducted by an approved non-AASB trainer, please let us know. An external training application must be completed for training not conducted by AASB.

---
Orientation Courses Available Online

If you were unable to attend your state-mandated orientation courses in-person this year, you still have a chance to take them online before the training year ends on June 30. Visit School Board U to sign up:

AASB will offer both orientations live in Montgomery on July 20 and July 21. If you would like to request a waiver allowing you to attend the in-person sessions in July, contact us at training@AlabamaSchoolBoards.org.
---
Share Your Policy Links With AASB
AASB's free online Policy Links provide direct access to school systems' online policy manuals. Curious about what other boards have in policy? Want to know what format other school systems are using to share their policies with the community? Just browse AASB's online Policy Link list. You can help us keep the Policy Links service up to date by visiting our website using our online policy link submission form. submitting a link.
To learn more about AASB's Policy services, visit the Policy section of our website, call us at 334/277-9700 or email policy@AlabamaSchoolBoards.org
---
Vote in our 2018 Summer Conference T-shirt Design Contest on Facebook!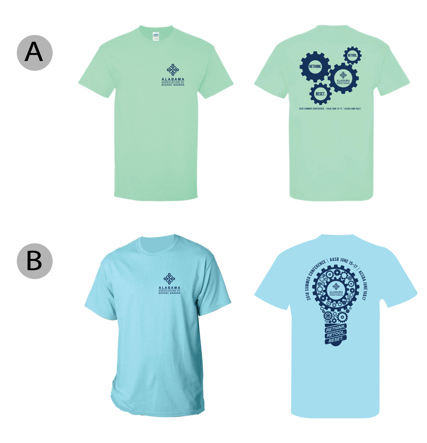 AASB is once again holding a Facebook contest to allow members to vote on their favorite design for this year's Summer Conference T-shirt. Here's how:
Head on over to the AASB Facebook page and look for our Summer Conference T-shirt post. Vote for your favorite design by commenting "A" or "B" on the post. The shirt design with the most votes will be selected for our 2018 Summer Conference T-shirt! Voting ends April 6.
---
It's A Date!
March 16
Free Legislative Update
Rep. Terri Collins, Rep. Alan Baker
Noon to 12:30 p.m.
March 20 (2 hours)
Advocacy Day: Districts 7-9
April 10 (2 hours)
Advocacy Day: All Districts
Montgomery, Ala.
April 19 (1.5 hours)
Webinar: Athletic Boosters
Registration opens soon!

June 15-17 (7 hours)
AASB Summer Conference
Orange Beach, Ala.
June 15 (3.5 hours)
Early Bird Law Clinic
Orange Beach, Ala.
June 16 & 17(6 CLE hours)
ACSBA Summer Conference
Orange Beach, Ala.
June 18-20
AAAA Summer Conference
Orange Beach, Ala.