The Board Candidate's First Steps
Serving on the school board impacts many different areas of a board member's personal and professional life.
---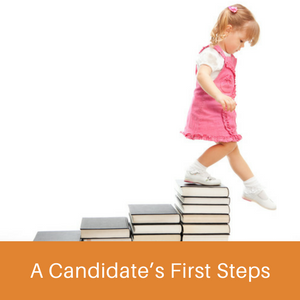 There are a couple things you'll want to do as you prepare to run:

Begin attending school board meetings regularly.
Learn how school board meetings run, how the current board interacts with the superintendent, and how your system's operations currently function.
Familiarize yourself with the roles and duties of the school board.

Learn the extent of and limits to the power of the board and superintendent in the Roles & Responsibilities Handbook.


Learn the limits on the authority of an individual school board member in the Roles & Responsibilities Handbook. In short, individual board members have NO authority. The members only have authority when they are together as a whole, and the powers of the board do not trickle down to individual board members. Essentially, board members have no more authority in school system business than any citizen would.
Consider how serving on the board might impact:

Your family and friends
If you have family or friends employed in the system, you will have to distance yourself from many issues or actions that impact them personally. You also must be careful not to take up their issues for your own personal crusade.


Your children
If you have children who are currently students in the system, that will affect how you interact with folks at all level of the system. If you've previously been the parent who meets with your child's teachers, that might need to be a role that your spouse takes on so that there is a measure of separation between you and school staff.


Your role as a PTA leader
If you've been an active volunteer or leader at the school level, you will need to step back if you become a board member. This is because of the board works at the governance level, not the advocate level.


Your business
If you are a small business owner in a small community, it's likely that board service will impact your business. Be sure you and your family are prepared for this.

Keep in mind too that if your business wants to bid on a contract with the school system, you should competitively bid, comply with all laws and regulations governing the bidding process, and be transparent at the board table about your business's bid throughout the bid process.

Read more from the Alabama State Department of Education about the school system's bid process.

Advice for Prospective School Board Candidates
AASB asked several current school board members what prospective school board candidates should know and do to prepare for board service.