Our News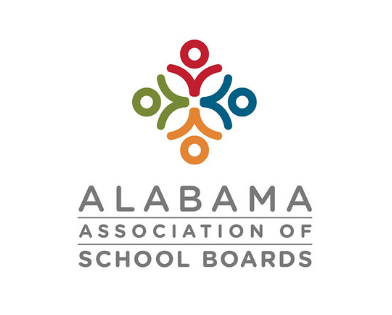 2019 Annual Convention
02-Dec-2019
More than 550 education leaders are expected to attend AASB's Annual Convention, Dec. 5 - 7 at the Hyatt Regency Birmingham - The Wynfrey Hotel. The event will feature informative and inspiring sessions designed to help school board members strengthen leadership and boardmanship skills.
Attendees will earn up to eight training hours and enjoy several powerful general session speakers who will expand upon this year's Convention theme, Unleash the Champion Within.
---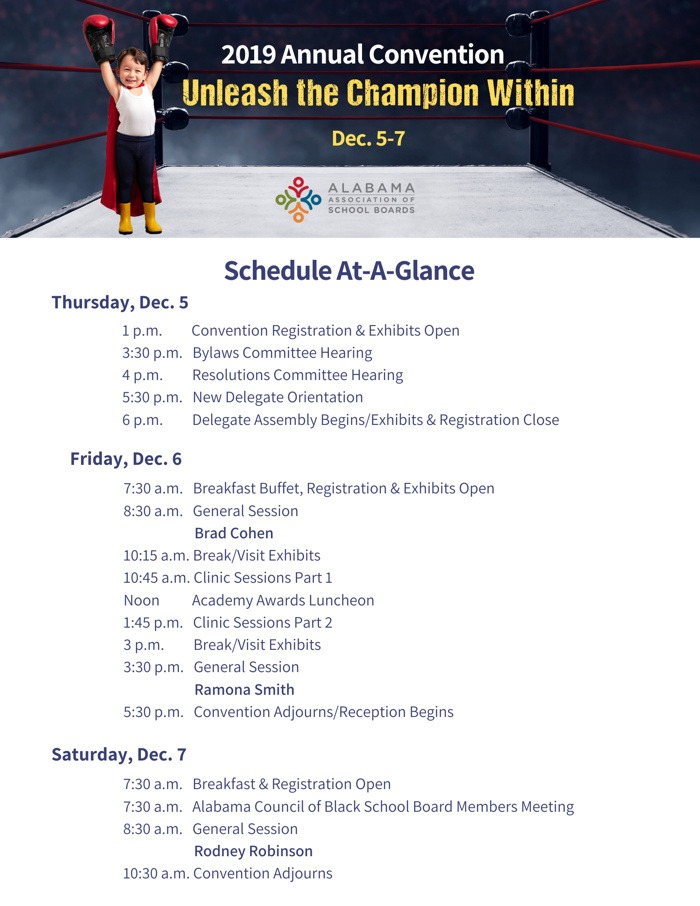 Convention Speakers



Power of One

Brad Cohen, motivational speaker, teacher,
school administrator, and author who will
share his story of living with severe Tourette's
syndrome and overcoming his disability to
live life to the fullest.

NO POWERPOINT FOR THIS SESSION

Unleash the Champion Within

2018 World Toastmasters champion and former
teacher, Ramona Smith, is on a mission to
inspire, connect and transform through the
power of words. She will challenge Convention
attendees to unleash their inner champion.

Equitable Education for All Children

2019 National Teacher of the Year
Rodney Robinson will share how a
"whole child" approach to education
and positive school culture help
students who are most vulnerable.
---
Delegate Assembly
Delegate Assembly, AASB's annual business meeting, will be held Dec. 5. Download Delegate Assembly handbook.
---
Clinic Sessions
In addition to several inspirational and thought-provoking general sessions, this year's Convention will feature a variety of clinic sessions full of practical, timely information designed to help school board members improve governance and boardmanship skills. View or download clinic presentations below:
Ask the Education Law Experts - Jayne Williams, AASB General Counsel & Director of Legal Advocacy
(No PowerPoint for this session)


2020 Legislative Preview - Lissa Tucker AASB Director of Governmental Relations, Alabama State Rep. Tracy Estes
(No PowerPoint for this session)


Fiscal Forecast - Kirk Fulford - Alabama Legislative Fiscal Office
View Presentation


Board Presidents Roundtable - AASB President James Woosley & Vice President Gwen Harris-Brooks
(No PowerPoint for this session)


Special Education Services That Don't Break the Bank - Lana Tew, Director of Special Education (Morgan County Schools)
View Presentation


Reclaiming My Time: The Impact fo Chronic Absence on Instructional Time - Dr. Marcus Vandiver, Education Administrator (ALSDE)
View Presentation


How New Age Thinking and Technology Can Change Your District's Trajectory - Kyle Keith and Todd Smith, Schneider Electric
View Presentation


Suicide Prevention: It Matters - JacQuan Winters, Kristen Amerson Youth Foundation
View Presentation


STEAM in the Blackbelt - Dr. Avis Williams, Superintendent of Selma City Schools
View Presentation


Improving Schools: Focusing on What Matters Most - Dr. Camille Wright, AASB Consultant
View Presentation


From Old Shop Class to 21st Century STEAM Lab: A Transformation - Kyle Kallhoff, Superintendent of Demopolis City Schools
View Presentation


In-School Apprenticeship Opportunities - Josh Laney, Director of Alabama Office of Apprenticeship
View Presentation
---
Awards Luncheon & All-State School Board
AASB will recognize school board members who have advanced in the School Board Member Academy and will honor this year's All-State School Board Award recipients during the annual Awards Luncheon on Friday, Dec. 6. The All-State School Board Award recognizes up to five present or past school board members who have exhibited exemplary boardmanship and is one of the highest honors bestowed by AASB.
The 2019 All-State School Board Members are as follows:
Ms.Louise Conner, (former) Eufaula Board of Education;
Mr. Adam Moseley, Alabaster Board of Education;
Mr. Bill Roberts, (former)Trussville Board of Education;
Ms. Mary Louise Stowe, Madison County Board of Education; and
Ms. Regina Watson, Brewton City Board of Education.
Other Convention highlights include the annual President's Reception and student performances from the winners of our second-annual Student Entertainment Social Media Competition--Tuscaloosa Fine Arts Academy Singers and the Brewton City Schools Choir Program.