Our News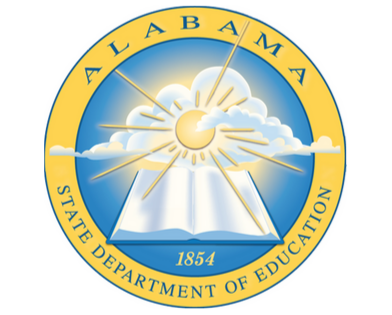 SBOE Meeting and Work Session Focus on FY22 Budget and COVID-19 Concerns, Funding
09-Oct-2020
The State Board of Education approved its $5.2 billion FY22 education budget request at its meeting Thursday. The budget request, a $459 million increase over FY21, was discussed at last month's work session and includes funding increases for school nurses, transportation, Alabama Literacy Act and AMSTI supports, Career and Technology Education, mental health and more. The request now goes to Gov. Kay Ivey who must submit her proposal to the legislature when it convenes in February 2021.

State Superintendent of Education Dr. Eric Mackey provided a progress update on the number of teachers completing professional development on the science of reading or LETRS training. Professional training to prepare teachers to provide high-quality reading instruction is a key focus of the Alabama Literacy Act. To date, 224 teachers have completed the two-year elementary training, and 657 have completed the one-year, early childhood (PreK and kindergarten) training. Numbers will increase substantially as 8,522 elementary teachers and 696 early childhood teachers currently are enrolled along with another 700 teachers on a wait list. Mackey also discussed the department's focus to provide stipends for teachers seeking the Certified Academic Language Therapist (CALT) credential for working with students who have dyslexia.

COVID-19 Challenges and Concerns
The board discussed concerns and challenges schools are facing amid the pandemic. Mackey said student engagement and lack of personal interaction with teachers is the biggest challenge for those learning remotely, but schools with hybrid schedules are making progress in balancing engagement. He said he expects most schools will offer a five-day in-person learning option by the end of the semester. He noted contact tracing and quarantine requirements for staff and students continue to interrupt in-person learning, with one school forced to close altogether when 20 employees were under quarantine and there were not enough adults to open the school. This situation may improve with revised quarantine guidelines released Thursday by the Alabama Department of Public Health. The new guidance is expected to significantly reduce the number of staff and students required to quarantine.
Board members had several questions regarding concerns about the state's digital content, SchoolsPLP. Assistant State Superintendent of Learning Dr. Elisabeth Davis said the curriculum is aligned with the state's course of study and assured the board that ALSDE staff took great measures to crosswalk content and materials to help teachers. Some local school systems are having integration difficulties between SchoolsPLP and the Schoology learning management platform. The ALSDE has developed tutorials and provided resources to help staff who choose to use these resources. The timing of the pandemic derailed the state's transition to a new student learning management platform. Original plans were to transition to PowerSchool this year; however, that change now is expected to happen next school year under a revised timeline.
Board members also asked about the impact of teacher retirement and resignations in staffing schools. Mackey said in addition to the shortage of math, science and special education teachers, several systems are having difficulty finding elementary teachers. He said the number of teacher retirements in June and July -- the usual retirement timeframe -- was down; however, that number increased closer to the start of school as those who adopted a "wait and see" approach made their decisions. Mackey said he is concerned by the number of teachers who are frustrated and overwhelmed by the circumstances and may not return to the classroom next year. He added that he is hopeful the legislature will approve incentives such as a pay raise and improvements to Tier 2 benefits and that as school slowly returns to normal, teachers will decide to stay as frustration subsides.
Mackey shared promising news about the teacher pipeline, explaining that entrance requirement changes are leading to a higher number of students enrolling in colleges of education. The ALSDE also is working with colleges of education to use greater flexibility to place students in classroom internships.

Federal COVID-19 Relief Funding
Responding to questions from Dr. Wayne Reynolds (District 8), Mackey addressed speculation that schools may not be able to spend all federal coronavirus relief funds received and may have to return funds. Outlining the different federal funding sources, timelines and challenges in meeting federal spending requirements, Mackey assured the board that schools have great needs and explained he doesn't expect any funding to revert to the federal government. Among the federal funding sources:
The Elementary and secondary School Emergency Relief (ESSER) fund: $195 million for equitable services to be spent by FY23. Mackey shared recent news that courts struck down the USDOE rule that would have diverted a greater share of funding to private schools. Private schools now will only receive funding based on the number of Title 1 students served and not total enrollment, which would have been a significantly higher amount. Funding is determined by Title 1 allocations and may be used for expenses ranging from devices and additional employees to academic and mental health supports.
Governor's Emergency Education Relief (GEER) fund: $47 million must be spent by FY22. Gov. Ivey directed all $47 million to K-12 and outlined four spending priorities including WiFi access; digital teaching support; academic supports for learning gaps; and tutoring services.
CARES Act – Federal Coronavirus Relief: $170 million from two federal grant programs must be spent by December 30, 2021. This funding stream flows through the U.S. Treasury Department and not the USDOE. Money transfers to the Alabama Treasury Department then to the ADPH or ALSDE before going to schools. $70 million for schools as part of a Health and Wellness Program is targeted to hiring nurses, acquiring personal protective equipment (PPE) and other health-related needs. Mackey said one major problem is there are no nurses to hire. Other needs, such as refitting nurse stations with running water, are not approved expenses. Mackey said now, because reimbursement for expenses will be allowed retroactively to March 1, schools will be able to draw down the full amount of funding. The remaining $100 million comes from an Educational Remote Learning grant program targeted to digital devices and supports. Alabama has a growing number of digital devices and additional equipment is slowly arriving, with more than 151,000 devices currently on backorder. Mackey said federal language requires the items be ordered and delivered to apply for reimbursement. For this reason, less than one-fourth of those dollars have been claimed. Schools have no control over the long waits, as this is a supply chain issue. Mackey said he extremely confident that working with federal officials, the requirement can be amended to say if ordered by Dec. 15 and unable to be delivered through no fault of schools, the purchases would still be eligible for reimbursement. Mackey added that he does not think any of these funds will revert back to the federal government, as paperwork for device purchases totaling millions of dollars is now being processed and most systems will finalize purchases and file for reimbursement in November.

Textbook Committee for K-12 Mathematics
Rebecca Boykin, chair of the state textbook committee, presented an overview of the committee's process and recommendations for math textbooks to be adopted by the SBOE. The committee was charged with rating textbook alignment with Alabama's mathematics standards. The overall alignment ratings are "strong" with a score of 3.5 to 4; "moderate" with a score of 2.5 to 3.9 and "weak" with a score below 2.49. Tracie West (District 2) asked why the board should include textbooks scoring "weak" on the approved list, emphasizing that the committee's hard work should flow to local school systems to get the benefit of best-rated products. Dr. Cynthia McCarty (District 6) agreed, saying textbooks scoring "weak" should not be put forward so the board can be confident the list reflects only content best-aligned to the standards.
The state textbook law says local school systems may not select a book that is rejected by the SBOE. While the SBOE may choose to reject textbooks below a certain score, Mackey warned such action may open the state up to legal action by vendors. Stephanie Bell (District 3) pointed out that the board has rejected textbooks in the past. Mackey explained the scoring rubric information is released after state contracts with vendors are signed. Board members also said they want to ensure the state negotiation produces the best value for school systems. Mackey said the state's process ensures every system pays the same price for textbooks.

Other SBOE News
The board approved the superintendent evaluation instrument that will be used in December 2021. The governor requested board members submit the current instrument by Oct. 30.
Mackey briefed the board about updates in the Alabama course of study for career and technical education and English language arts. The social studies course of study committee will be appointed in November.
The board designated President Pro Tem Dr. Yvette Richardson as the delegate for AASB's 2020 Convention & Delegate Assembly.
The board approved commendatory and other resolutions, including recognition of October as Statewide Parent Engagement Month; Dyslexia Awareness Month and Principals Month. Next week is School Lunch Week and School Bus Safety Week.

Next SBOE Meeting

The next State Board of Education meeting will be held in Montgomery on November 12 at 10 a.m. with a work session to follow.
Lissa Tucker
Director of Governmental Relations