Our News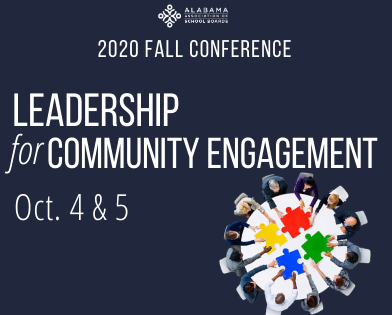 Fall Conference 2020
07-Aug-2020
AASB's Fall Academy Core Conference, Leadership for Community Engagement, will take place Sunday, Oct. 4 and Monday, Oct. 5 at the Renaissance Montgomery Hotel & Spa. Earn up to six training hours and learn how community engagement brings together public relations, media relations and internal and external communication to enhance relationships between schools and those they serve.
In-person Option


Health & Safety Precautions
The health and safety of AASB's members and staff are our highest priority. We have meticulously planned this conference to incorporate recommended health guidance such as maximum social distancing among attendees, eliminating self-service food and beverage lines and requiring facial coverings. We're also streamlining the on-site registration process by eliminating check-in at the registration desk and placing name badges and programs at assigned seating. In addition to these precautions, the Marriott has implemented a higher standard of everyday cleaning for all of its properties, using the highest classification of disinfectants recommended by the Centers for Disease Control and Prevention and the World Health Organization. The hotel also will have multiple hand sanitizer kiosks located near high-touch areas throughout the property. Should you have any questions or concerns, please don't hesitate to let us know.
If you'd like to attend the AASB Fall Conference in-person, REGISTER NOW.
For information about attending virtually, see below.


NEW! Virtual Option


We're pleased to announce a virtual option for those who are unable to attend or uncomfortable attending the AASB Fall Conference in-person due to COVID-19 concerns.
Are You Already Registered for the Conference?
IMPORTANT: If you've already registered to attend the Fall Conference and would like to switch to the virtual option, please complete our online registration change form.

AASB's staff will take care of the change and contact you with all the details you'll need to participate virtually.
Not Yet Registered for the Conference?

---

Post-Conference Workshop (2 training hours)
Join AASB Director of Leadership Development Susan Salter from noon to 2 p.m. for an extended learning experience during the Post-Conference Workshop, Countering Biases Hidden in Your Policies & Practices. This informative session will examine how certain policies and practices can result in negative consequences that disproportionately impact the most vulnerable students. Earn two training hours and learn strategies to proactively address hidden biases that create barriers to student learning and engagement. Lunch will be provided. REGISTER NOW!
IMPORTANT NOTE: Post-Conference Workshop registration is only open for in-person attendees.


---

Watch the Website and Mobile App for Updates and Materials
Be sure to bring your smart phone, tablet or other wireless device to access any handouts and/or presentations. You will be able to download materials from our website or the AASB mobile app before and during the conference.
---

Hotel Reservations
Hotel reservations at the Renaissance Montgomery Hotel & Spa can be made online or by calling 334-481-5000 and reference "Alabama Association of School Boards Group."

---
Featured Speakers


Sunday, Oct. 4
Changing the Narrative

Dr. Joe Sanfelippo, Superintendent of Fall Creek School District (Fall Creek, WI)
Telling the story of schools helps create a narrative that builds culture and gives everyone in your community an identity. Utilizing social media and being the chief storyteller in your district is a great way to celebrate the success of students with parents and the community.
Effective PR Tools at a Low Cost
Cindy Warner, APR—Community Ed/PR Supervisor Shelby County Schools

Dr. Lewis Brooks— Superintendent, Shelby County Schools
In this session, participants will learn easy and effective public relations methods that any size system can handle and discuss the role of a school PR representative.
Twitter: @shelbyedk12alus | @cindyjowarner | @drbrookslew
Proactive Communication Between School Districts, Parents and the Media

Cory Uselton, Superintendent of Education for DeSoto County Schools (MS)

In this session, participants will learn effective communication strategies that can be used in districts of all sizes. Uselton will discuss real-life situations will be discussed including school threats, dealing with incorrect information on social media and other emergency situations.

Twitter: @cory_uselton
| @dcsEnews
Day Two:
Monday, Oct. 5
Does Your School Smell Like Cookies?
Tom Salter, Former Senior Communications Officer for Montgomery Public Schools
Identify key corporate marketing and relationship strategies that could help your schools build their brands and boost relationships with stakeholders.
Cultural Awareness Through Communication
Shayla Cannady, Senior Manager, Public Relations, Orange County Public Schools (FL)
Culture is more than race and ethnicity. It may not be visible or identifiable to others; however, it encompasses characteristics essential to one's identity. School systems tasked with the awesome responsibility of effectively communicating to various communities. Learn how to create a positive working and learning environment through culturally responsive communication practices.
Twitter: @shayofalltrades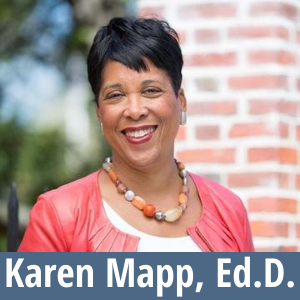 Authentic Community Engagement
Karen L. Mapp, Ed.D., Senior Lecturer at the Harvard Graduate School of Education
Family, community, and school partnerships play a large role in fostering student success. Dr. Mapp will discuss the ways in which school systems can partner with families and the community to enhance school improvement and effectiveness.
Twitter: @karen_mapp
The Happiness Impact
Mark Sims, Director of Sales Development, Stryker | 30+ year Stryker veteran
This session will focus on changing mindsets, boosting happiness and engagement within our communities. If we can impact those outcomes, we can deepen our relationships between schools and those they serve.