Our News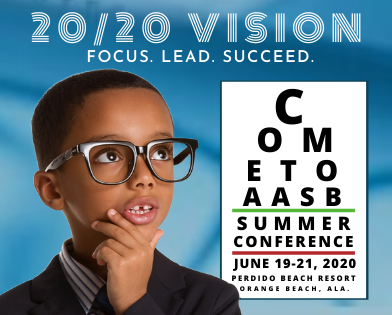 AASB Summer Conference 2020
12-Feb-2020

Registration opens Tuesday, Feb. 18 for AASB's annual Summer conference. More than 600 local school board members, superintendents and education leaders are expected to attend the event June 19-21 at the Perdido Beach Resort in Orange Beach, Ala.
This year, the popular Summer Law Clinic also will be held Friday, June 19 and will feature school board attorneys and experts offering guidance on a variety of legal issues of importance to school boards.


Perdido Resort Room Block Sold Out
The Perdido Beach Resort room block is sold out as of 9 a.m. Feb. 18; however, the resort is maintaining a waiting list. Should cancellations be made, those on the waiting list will be contacted. Call 1-800-634-8001 and use the booking code 14404 to add your name to this list.
We have also arranged additional room blocks at two nearby hotels as well as a 15% discount for condos booked through Brett Robinson Condo Rentals (see below).

The Lodge at Gulf State Park
21196 E Beach Blvd
Gulf Shores, AL 36542
$245 - 2 Queen Beds/Balcony
$245 - King Bed/1 Bunk Bed/Balcony
$275 - 2 Queen Beds Gulf Front Room/Balcony
Reservations:

Reserve your room online or for phone reservations, call 1-800-618-4350 and use the group code: AASB

Hilton Garden Inn - Orange Beach Beachfront
23092 Perdido Beach Blvd
Orange Beach, AL 36561

$246 - 2 Queen Beds - Pool View/Balcony
$246 - 1 King Bed/Inland View
$287 - 2 Queen Beds/Beachfront/Balcony
$287 - King Bed/Beachfront/Balcony
Reservations: Reserve your room online or for phone reservations, call 251-974-1600 and use the group code: AASBO

Brett Robinson Rentals
IMPORTANT: You can visit the Brett Robinson Rentals website to view properties; however, reservations must be made by phone to receive the 15% discount.
Visit website to browse properties
Phone: 1-888-633-7101
Group ID: 1651539 (15% discount)