Get Involved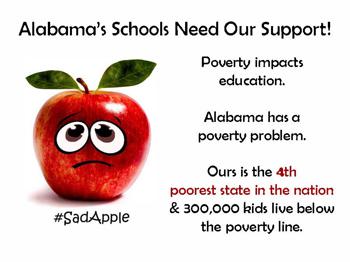 Alabama's public school students need your voice! AASB urges you to make the education budget discussion real for your lawmakers. Call, fax, email, visit your lawmakers to help shape the state budget to best work with your local funding plans.
Follow AASB on Social Media


School System Snapshots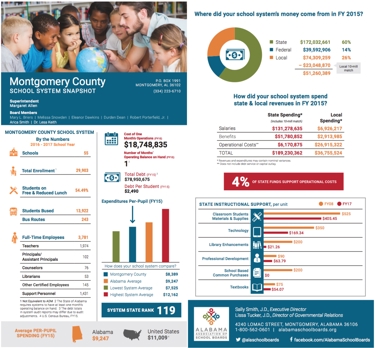 Launched at the start of the 2017 Alabama legislative session, the Alabama Association of School Boards' all-new School System Snapshots provide an individualized look at each Alabama school system's state and local resources – funding and spending.

This resource is designed to serve as a starting point for discussions with lawmakers and constituents about the unique and diverse funding needs of individual school systems.
The complete collection of School System Snapshots is available on our website, organized in two convenient alphabetical lists of the state's city systems and county systems. Also provided is a user's guide to help you interpret the information included in the Snapshot and to assist you in preparing questions for your lawmakers.


>> Download your system's Snapshot.



Related News



March 15, 2017 - Senate committee approves flat education budget
March 15, 2017 - Alabama Senate committee approves $6.4 billion education budget
March 7, 2017 - Landslide victory in Jefferson County school tax vote
January 3, 2017 - County Commission approves permanent penny sales tax extension benefiting Baldwin County schools
October 24, 2016 - Homewood raises sales tax to 10% to help fund city school improvements

Helpful Links


EQUITY AND ADEQUACY IN ALABAMA SCHOOLS AND DISTRICTS - Prepared for the Alabama State Department of Education and released in , this two-year study of how Alabama funds its schools offers a stark look at a finance formula experts describe as outdated and unfair. Released in March 2015 and presented to the Alabama State Board of Education in September 2015, the study estimates the state should provide 20 to 35 percent more in funding just to reach adequate levels.


KIDS COUNT DATA CENTER - A project of the Annie E. Casey Foundation, KIDS COUNT tracks the well-being of children in the United States. By providing high-quality data and trend analysis through its KIDS COUNT Data Center, the Foundation seeks to enrich local, state and national discussions concerning ways to secure better futures for all children — and to raise the visibility of children's issues through a nonpartisan, evidence-based lens. In Alabama, VOICES for Alabama's Children is part of the national KIDS COUNT network, collecting and reporting the data featured in the KIDS COUNT Data Center and working to improve programs and policies for the state's children and families.